TAKING ON HEALTH EQUITY OPPORTUNITIES AND CHALLENGES
Are you ready to start promoting health equity in your community? Or, do you want to make what you are doing even stronger?
The Health Equity Action Center can help. Follow these four simple steps:

SELF ASSESSMENT
This self-assessment will help you figure out what's next. These are 14 common problems most communities face in promoting health equity. Note all that apply. To get more information about each, visit the Community Toolbox.
TROUBLESHOOTING GUIDE
We need to understand the community or situation better.
We don't understand the problem or goal.
We don't know what to do to solve the problem.
There is no clear direction or communication with the group.
There is not enough community participation.
There is not enough leadership.
We are facing opposition or conflict.
There is not enough action to promote change.
There is not enough change in the community or system.
We don't know how to evaluate our program or initiative.
There is not enough improvement in outcomes.
There are unintended or unwanted outcomes.
There is not enough money to sustain the program or initiative.
We need to assure better conditions for implementation.
THE COMMUNITY TOOLBOX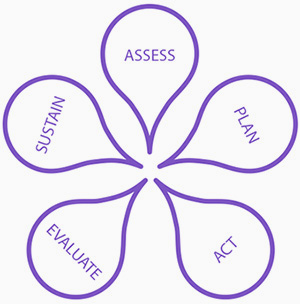 This Community Toolbox is a step-by-step guide to launching a community health project. In a nutshell, the Community Toolbox provides helpful ideas for running a project from start to finish. There are resources for each of these 5 steps.
We thank the Work Group for Community Health at the University of Kansas for making this resource available free to all online http://ctb.dept.ku.edu/en through a Creative Commons license.
You can also get specific help related to health equity from the Health Equity Action Center team as you get ready for, and after you launch your project.
Here are a few questions we can help you answer:
What are some of the biggest health challenges in your community?
How do social factors, like race, income, and environment play a part?
What goals can a community health equity project realistically achieve?
What resources are available to help your project?
Who else is working on health equity in Delaware, and how do we connect with them?
JOIN THE ACTION CENTER AND LET US HELP YOU GET STARTED
Please fill out this brief inquiry and share your contact information. Also, please like us on Facebook and follow us on Twitter if you care to. Your contact information, and information about your project will not be published without your permission. A member of the Delaware Division of Public Health's health equity action team will review the information and contact you.
Get Started →
HEALTH EQUITY GUIDE
This Health Equity Guide explores all of the major themes, frameworks, and approaches regarding health equity, all while keeping the context of Delaware in mind.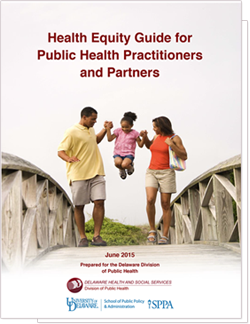 Download PDF →
VIEW ONLINE VERSION
Table of Contents:
SECTION 1: Introduction
SECTION 2: Background
SECTION 3: The Case for Change
SECTION 4: Upstream Strategies for Community Health
SECTION 5: Upstream Strategies for Health Care Providers
SECTION 6: Policy-Oriented Strategies
SECTION 7: Data, Research, and Evaluation for Health Equity
SECTION 8: Leadership for Health Equity
Learning About Health Equity
Visit our What is Health Equity page, and check out some of these additional resources.
On Video
On the Web
In Printed Materials
Partial List of Health Resources